Get help from a locksmith in Copenhagen
Mejlshede Group A/S and our plus 40 employees are ready to assist you when you need a locksmith in Copenhagen. You can call us around the clock at +45 35 39 39 39. When you call us, the phone is always answered by an educated locksmith, ensuring you speak with a professional immediately. We accept most cards, MobilePay, and cash. Mejlshede is also a member of the Danish Locksmith Association.
We can handle most tasks in Copenhagen
At Mejlshede Group A/S, we're proud to be one of Copenhagen's preferred locksmiths, offering a wide range of services tailored to the individual needs of our clients, both private and commercial.
Our services include:
✅ Lock opening: Living in Copenhagen and locked yourself out? Our experienced team is ready to help you get back in quickly and efficiently.
✅ Emergency lock opening (24-hour service): No matter when misfortune strikes, we're ready to assist you in urgent situations around the clock.
✅ Lock replacement: We offer professional lock replacement to ensure the security of your home or workplace.
✅ Lock rekeying: Considering rekeying your locks? Our specialists are here to help.
✅ Post-burglary repairs: After a break-in, it's essential to restore security as soon as possible. We provide fast and effective repair of locks and doors after burglaries.
✅ Service agreements: We offer customized service agreements for properties and businesses, ensuring ongoing security and functionality.

Being your local locksmith in Copenhagen with over 50 years of experience in the industry, we are a family-owned business that prioritizes quality and trust. We train our locksmiths and have over 40 dedicated employees who share our passion for professional craftsmanship. As a member of the Locksmith Association, an industry partner at Andelsportal.dk, an ambassador at 3byggetilbud.dk, and with our ISO 9001 certification, we tirelessly work to maintain our high standards.
Whatever your needs, Mejlshede Group A/S can provide a solution suited for you. Contact us on our website or call directly at +45 35 39 39 39.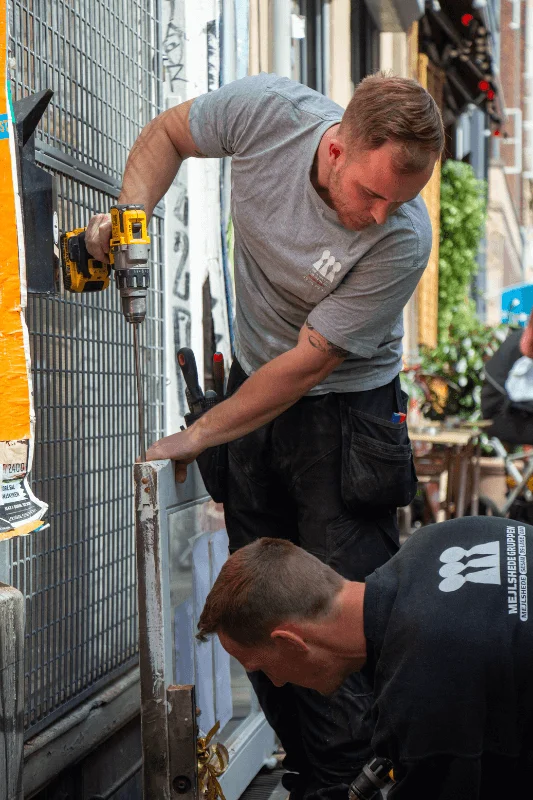 Our solutions and products
Wide range of solutions and products
At Mejlshede Group A/S, we offer a broad range of high-quality solutions and products designed to meet the diverse needs of our customers.
We can assist with:
✅ Lock systems: From traditional mechanical lock systems to advanced electronic lock systems, our lock range is extensive. We're proud suppliers of Medeco and Ruko lock systems, known for their reliability and durability. For those seeking the latest in electronic lock systems, we also offer advanced Salto and iLOQ systems. Especially the Finnish iLOQ lock system is popular among our clients.
✅ Electronic access control: With our electronic access control systems, you can easily enhance the security and user-friendliness of your business or property. Electronic access control allows for full control over who has access to property areas, and these systems can be easily integrated with other security technologies.
✅ Door phone installation: We boost security and accessibility in your home or workplace with our range of door phones. We're proud to offer quality products from renowned brands like Siedle and Videx.
✅ Electronic locks, video surveillance, and alarm systems: Our electronic locks, video monitoring systems, and alarm systems are designed to provide maximum security and peace of mind.
✅ Door automation, main door locks, and private parcel mail systems: Our range also extends to various other products that can enhance the security and functionality of your property. From door closers and main door locks to private parcel mail systems, we offer solutions suited for any need.
At Mejlshede Group A/S, we have built a strong reputation for delivering high-quality products supported by our dedicated and professionally trained team. As a member of the Locksmith Association, an industry partner at Andelsportal.dk, and an ambassador at 3byggetilbud.dk, you can trust our commitment to expertise and quality.
Quality above all
For us, the most important part of our service is quality. We value that higher than anything else. We know that to provide this superior quality, our team must be highly trained, dedicated professionals – craftsmen in their trade. That's why all of our locksmiths undertake a 4-year training programme, which is mandatory for everyone except our office staff – but they are, of course, experts at almost everything else!
When we receive your call, it will be answered by a locksmith. We understand how important it is to talk to a specialist who can tell you what you need right away.
Niche skills developed by dedicated professionals in Copenhagen who love what they do
As well as the basic 4-year training programme, many of our staff also specialise in other areas, so you can be sure that whatever your needs, we have someone with the skills and knowledge to assist.
So, whether it's a door-phone alarm system, safes or fire-protection for your home, office or large commercial premises, we have the people, the tools and the expertise for the job.
Our team consists of 50 dedicated employees who love what they do – each one of them is eager to help our customers to the best of their abilities. As a family-run business, we pride ourselves on our very special company culture in which loyalty is a keyword.
Get an offer for a locksmith in Copenhagen